Wilton House Museum is a museum in a historic house located in Richmond, Virginia. Wilton was constructed c. 1753 by William Randolph III, son of William Randolph II, of Turkey Island. Wilton was originally the manor house on a 2,000-acre (8.1 km2) tobacco plantation located on the north bank of the James River several miles east of the city of Richmond. Between 1747 and 1759, William III acquired more than a dozen contiguous tracts of land. About 1753, Randolph completed construction of large Georgian manor house overlooking the river, which he named "Wilton." It is a mimic of Wilton House in UK, the family seat of the "Earl of Pembroke".
With commercial development encroaching and the property in danger of foreclosure The National Society of The Colonial Dames of America in the Commonwealth of Virginia intervened and saved the mansion from destruction by purchasing, dismantling, moving, and rebuilding it on a site overlooking the James River a few miles west of its original location in 1934. Opened to the public since 1952, Wilton hosts a collection of 18th- and 19th-centuries furnishings, textiles, glass, ceramics, and silver that reflect the "planter" lifestyle of the mid-18th century.
During the 17th century the Randolph family of Virginia was among wealthiest and most powerful families in Colonial Virginia. William Randolph and his wife, Mary Isham Randolph, have been referred to as "the Adam and Eve of Virginia." Wilton was constructed circa 1753 for William III and his wife, Anne Harrison Randolph, on a 2,000-acre plantation overlooking the James River. William Randolph III was a planter and public servant. He was a member of the House of Burgesses for Henrico County, an officer in the militia, and a vestryman for Henrico Parish.
None of his three subsequent male descendants who inherited Wilton would live to the age of 40.
William Randolph III died in the year of 1762, age of 38 and leaves Wilton to his five year old son, Payton Randolph.
Peyton Randolph died in the year of 1784, probably in his early 30 and leaves Wilton to his five year old son, William Randolph IV.
William Randolph died in the year of 1815, age of 26 and leaves Wilton to his five year old son, Robert Randolph.
Robert Randolph died in 1839, age of 29 and leaves a heavily indebted Wilton to his daughter, Catherine.
Catherine was the last owner in Randolph family; she files a suit to sell Wilton in 1859.[5]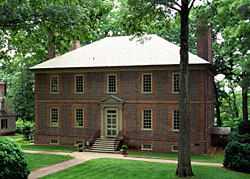 GeoCoord
37°33′45″N 77°31′14″W
Address
215 S. Wilton Rd. Richmond, VA 23226