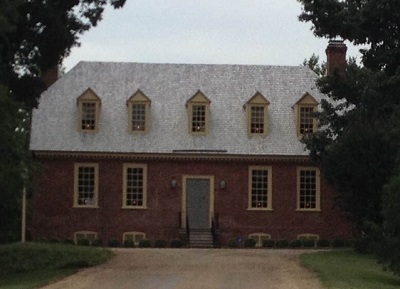 Mayfield Cottage is Dinwiddie County's oldest brick house. It was built ca. 1750, likely for Robert Ruffin, a member of the Virginia House of Burgesses. Ruffin lived at Mayfield until 1769 when he moved to King William County. Destruction of many of Dinwiddie County's record makes it difficult to trace the title for the property. The next known owner of the house was Thomas Tabb Boling. It is belived that Boling owned Mayfield until his death in 1810, and then his son, Thomas Reford, inherited the property. In 1816, Mayfield was insured for $3,000 by the Mutual Assurance Society of Virginia by Edward Osborne Goodwyn. Goodywn, the third likely owner, gave the property to his sister, Eliza Harrison Goodwyn. Eliza married Captain Thomas Whitworth. She died in 1847 leaving the property to her daughter Eliza, the wife of Henry C. Willson. The Willson's sold the 290 acre property and a granite quarry to the City of Petersburg for $15,000. At the same time, the property was accepted by the board of directors of Central Lunatic Aslym to be the site of their new hospital. In 1882, the City of Petersburg transferred the property to the Commonwealth of Virginia to be used for Central State. The Mayfield property remains as part of the Central State Hospital Complex.
During the Civil War, Mayfield was home to two Confederate defensive lines. Fort Whitworth and Fort Gregg were maintained at Mayfield until April 2, 1865 when they fell to Union troops. General Robert E. Lee left Edge Hill earlier in the day and viewed the battle from the Mayfield property. General Lee left Mayfield for Cottage Farm, where he planned the final details of the evacuation and began the journey to Appomattox.
Mayfield was listed on the Virginia Landmarks Register on May 13, 1969 and the National Register of Historic Places on November 11, 1969.  Mayfield is located at 3348 W. Washington St. Petersburg, VA 23803. Mayfield operated as a Bed and Breakfast until 2013, when it was closed as a private residence.
Address
3348 W. Washington St. Petersburg, VA 23803