Matthew Jones House at Ft. Eustis
The Matthew Jones House is a historic plantation house located on Fort Eustis in Newport News, Virginia. The house sits on a hill toward the northern end of Mulberry Island, overlooking the James River. It was built ca. 1725 as a one-and-a-half-story frame dwelling with brick chimneys and later underwent two major renovations. During the first renovation, in 1730, the walls were bricked in and a shed room and porch tower were added. During the second, in 1893, the house was raised to a full two stories. In 1918 the house and its surrounding land were acquired by the U.S. government for the establishment of an army post. By the late twentieth century, the Matthew Jones House had fallen into grave disrepair. In 1993 it was preserved and rehabilitated by the National Park Service in cooperation with the U.S. Army Corps of Engineers. Today it serves as an architectural museum.
At times in the past the Matthew Jones House was also known as the "Brick House" for its construction, and the nearby creek, now known as Milstead Creek, was once called Brick House Creek. It is frequently stated in popular histories of the area and on the Matthew Jones House roadside historical marker that the plantation was once known as "Bourbon".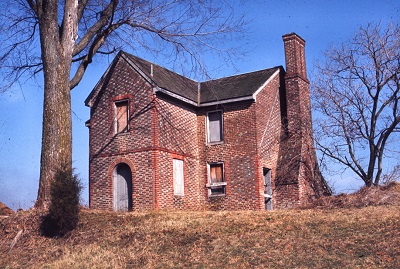 GeoCoord
37°9′37″N 76°36′11″W
Address
Taylor Ave. and Harrison Rd., Fort Eustis, Newport News, Virginia