Kittiewan originally known as Millford is a historic plantation house located near New Hope, Charles City County, Virginia. It was built in the 18th century, and is a typical Colonial-period medium-size wood-frame Virginia Tidewater plantation house. It consists of a 1 1/2-story, main section with a gable roof, with an original gable roofed ell and later lean-to addition. Its first known owner was Dr. William Rickman, the first Director of Hospitals of the Continental Army in Virginia during the American Revolution. Stewardship of the house and surrounding 720 acres (2.9 km2) is administered by the Archeological Society of Virginia. The house and grounds are open to the public by appointment.
It was added to the National Register of Historic Places in 1978.
Kittiewan is an historic plantation house in Charles City County. The house sits above the confluence of Kittiewan Creek and the James River on land that was patented to Charles Roane in 1667. The original 450 acres patented to Roane changed hands several times as the land was subdivided. The earliest suggested date for historic occupation of the tract now known as Kittiewan is between 1720 and 1730.
It is unknown when the home was constructed, however, the first owner was Dr. William Rickman. Dr. Rickman married Miss Elizabeth Harrison, the daughter of Benjamin Harrison, around 1776. Her father was the one of the signers of the Declaration of Independence and the owner of Berkeley Plantation. Mrs. Rickman was also the older sister of William Henry Harrison, the 9th President of the United States. In 1776, Dr. Rickman was appointed by the Continental Congress to oversee Virginia hospitals during the Revolutionary War as the first Surgeon General. Dr. Rickman died at Kittiewan in 1783, leaving no heirs. Mrs. Rickman remarried in 1789 to John Edmondson. She died in 1791.
Like many of the plantations in the South, Kittiewan used enslaved labor. The earliest records place slaves on the property in 1780, but it is likely that slaves worked the land much earlier. It is unknown how many slaves were kept at Kittiewan during the antebellum period. However, the 1850 Slave Census listed William Selden as having 31 slaves, 20 males and 11 females. By the 1860 census, Selden had 41 slaves, 23 males, and 18 females.
During the Civil War, Kittiewan and the adjacent North Bend, were occupied by Union Troops under General Ulysses S. Grant. General Grant and his  men were preparing to cross the James River near Kittiewan to join the Siege of Petersburg (June 1864- March 1865). They were going to cross the pontoon bridge that led to Flowerdew Hundred. The earthworks at Kittiewan were built to protect the right flank and rear of General Grant's army as they prepared to cross the river.
Kittiewan Plantation is now the home and headquarters of the Archeological Society of Virginia and a history museum. It was listed on the National Register of Historic Places on December 28, 1979 and the Virginia Landmarks Register September 20, 1977. It is located at 12104 Weyanoke Road. For more information please call: (804) 829-2272 or visit: Kittiewan Plantation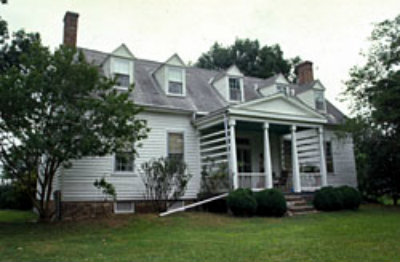 GeoCoord
37°18′05″N 77°02′51″W