Smith's Fort Plantation is a house and parcel of land located in Surry County, Virginia, United States. The current main house on the property, also known as the Faulcon House, dates from 1751. The house has been an example for numerous twentieth century reproductions. It is also known as Warren House and Rolfe-Warren House.
The plantation received its name because it was the location of Captain John Smith's "New Fort," built in 1609, located directly across the James River from the Jamestown colony. The fort was quickly abandoned due to dry rot and a rat infestation.[4] The same land was later given by Chief Powhatan to John Rolfe as a dowry for the hand of Pocahontas when Rolfe and Pocahontas married. Archaeological surveys of the property have revealed that a number of structures have existed on the property and the present, restored main house was built by Jacob Faulcon in 1751.
Smith's Fort is a historic home in Surry County that was originally known as Warren House. The house was traditionally associated with Thomas Rolfe, the son of John Rolfe and Pocahontas. The land on which the house sits passed to Pochontas from her father Powhatan, Chief of the Powhatan Confederacy. It is located on the banks of Cray's Creek. The house was originally built by Thomas Warren in 1652 after he purchased the land from Rolfe. Warren stayed at the Warren House until his death in 1669.
It is a classic example of colonial Virginia architecture. Along with Mayfield Cottage, it belongs to a collection of one-and-a-half-story mid-18th-century brick homes that epitomizes Georgian architecture in colonial Virginia.
The property is now known as Smith's Fort, a name derived from an earthwork on the property that was constructed in 1609 by the order of Captain John Smith. In 1928, Smith's Fort was acquired by the Williamsburg Holding Company, predecessor to the Colonial Williamsburg Foundation. The Association for the Preservation of Virginia Antiquities was given the property by the Colonial Williamsburg Foundation in 1934 and has since opened the house as a museum. Today the house is furnished with a collection of fine English and American antiques.
Smith's Fort was listed on the Virginia Landmarks Register on October 16, 1973 and the National Register of Historic Places on November 14, 1973. It is located at 217 Smith Fort Lane, Surry VA 23883. For more information please visit: Smith's Fort Plantation or call: 757-294-3872.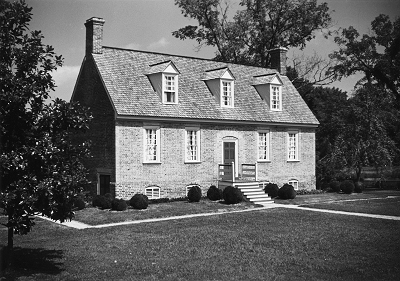 GeoCoord
37°9′50″N 76°49′12″W
Address
217 Smith Fort Lane, Surry VA 23883